The most modern and largest cement plant of the UAE with a production capacity of 4 million tons of clinker per annum and 2.4 million tons of cement per annum and an annual turnover of over AED 600 million.
Fujairah Cement Industries (FCI) is a Public Joint Stock Company was established in the Emirate of Fujairah, on 20th December 1979, with the paid capital of AED 555 million , according to Govt. of Fujairah Decree No: 3/79 issued by His Highness Sheikh Hamad Bin Mohammed Al Sharqi, the member supreme council of UAE and the Ruler of Fujairah. Engineer/Sheikh Mohammed bin Hamad Bin Saif Al Sharqi, Chairman of the company and Engineer/Saeed Ahmed Ghareib Howaishil Alsereidi is the General Manager. FCI is a consortium of Govt. of Fujairah, Govt of Abu Dhabi, Islamic Development Bank, and shareholders from UAE and other GCC countries.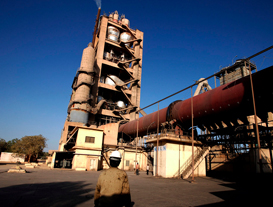 The plant is located at Dibba town of Fujairah Emirate. It was supplied and erected by M/s. Voest Alpine, Austria on a turn-key basis with a capacity of 500,000 M.T. of clinker with one cement grinding mill of 800,000 tons per annum.